Attorney SEO Company
Optimization Prime specializes in SEO for law firm websites. We pride ourselves in helping attorneys grow their practice through aggressive digital marketing campaigns.
Looking for ways to attract more clients and get better cases for your law firm? The Optimization Prime Legal team offers a way for busy lawyers to best utilize their time. Our campaigns work to generate more leads and drive more cases to your firm, which helps to maximize your practice so you can focus on your clients.
The trend towards using the internet and mobile devices to research and find answers to questions has been rising dramatically for the past 5 years. The graphic below is an interesting survey taken in 2012, which reflects how people search for an attorney.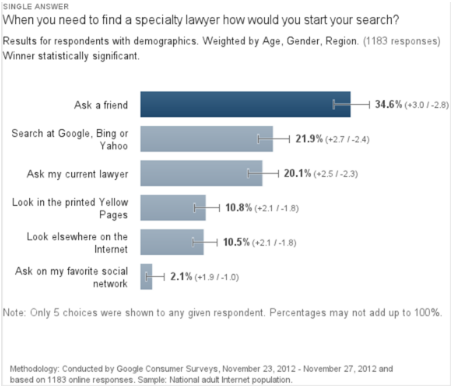 Networking and maintaining a solid reputation are important, but more and more people are looking towards the internet to make their buying decisions. Your law firm must win in today's information space where potential clients look for experts in different expertise of law.
Search Engine Optimization (SEO) for attorneys is one of the most competitive verticals for advertising. Law firms are continuing to increase their advertising spend each and every year, which means it's more important than ever to hire an SEO company that has a record of getting results.
How can you be sure which company to trust or who to hire to help you?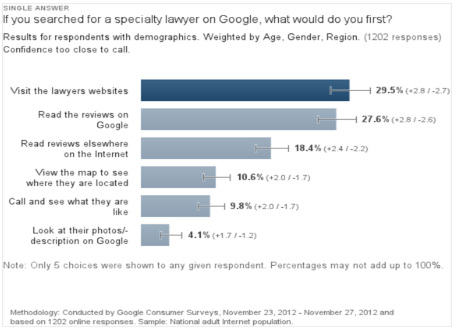 Choosing a respected and ethical company to manage your law firm's information space and digital footprint can be a daunting task because so many marketing companies claim to have the best lawyer SEO services available. Optimization Prime will analyze your current information space and will create a winning campaign for you and your firm.
If you want to appear to be the best 'subject matter expert' in your area(s) of law, give Optimization Prime an opportunity to earn your business.
What you need to know about Optimization Prime Legal SEO:
Hiring a knowledgeable and results driven company is crucial to your firm's success. The Optimization Prime team has years of experience in getting and keeping their clients at the top of Google. Our founder, Chad Schmidt, has been married to an attorney for over 15 years and prides himself and our company on helping attorneys win. Most companies that hire Optimization Prime have already hired other SEO providers in the past. Our goal is to be the last SEO company they ever need to hire.
Optimization Prime offers our attorney clients exclusive SEO services. We will be working for you and only your firm in your city's information space.
Successful attorneys understand that it's very important to hire the right attorney. Just like your practice, our company does not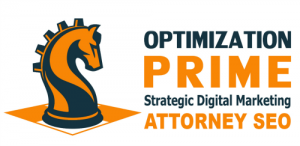 offer the cheapest SEO service in the market, but we do make this very simple guarantee. If you hire us to do your SEO we will position ourselves like we are part owner of your practice. Only when you succeed, can we succeed.
If your website is not actively working to drive new clients to your firm today, we want to fix it.