A/C Repair SEO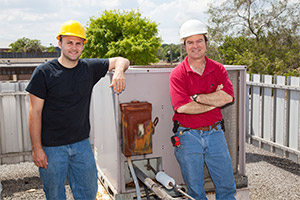 Today's purchases begin with an online search. Internet users quickly find the information that leads them to make a buying decision no matter what product or service they're looking for.A/C repair businesses must make sure that they are available to users when they need repair services the most. Increasing your visibility comes from having a long-term search engine optimization (SEO) strategy in place designed around the unique needs of your business. It puts your business, services, and brand in front of a greater number of the people who are looking for your repair services.
Local SEO
Optimizing your business and website for local SEO allows you to appear in the search results for users who are most likely to need your services.
Businesses must have a customized strategy in place in order to leverage the benefits of local SEO. By tailoring your SEO strategy to your A/C repair business, you get a much higher rate of growth from the awareness you develop in your local market.
Analytics tools make it easier than ever to measure the success of each marketing effort you make. But learning how to use Google Analytics and other tools can require a large learning curve that makes it difficult to use effectively.
An SEO professional can help you implement valuable analytic tools the right way for your A/C repair business.
The Steps You Need to Take
Local SEO is always evolving. Optimization Prime helps A/C repair service providers use all of the tools available to improve their success in local search. By optimizing your business website, you can get immediate feedback from current and future customers. This helps you respond to the evolving needs and pain points of customers.
A local SEO strategy must consider the on- and off-site elements of your business. It must use the various social media channels that your customers are using to find your services.
Your site's design and content must work for your business by making it easy for users to find useful and relevant information. Working together, these elements get you top rankings in the major search engines: Google, MSN Local, Yahoo!, and others.
Citations are also important for local SEO rankings. These provide the information related to your business location and contact. Although, citations must be consistent across the various directories and results in order to contribute to your overall rankings.
A/C repair businesses can also improve their rankings in customer review sites. More customers use these reviews to ensure they get quality service for their repair needs.
Why Focus on Local SEO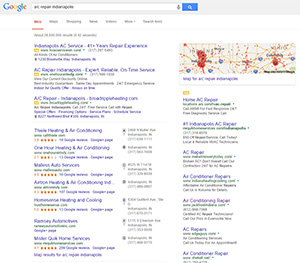 Optimizing for local SEO grows your audience and establishes yourself as an authority in the A/C repair industry. This places your business "top of mind" for customers who will know where to go when they need A/C repair services.
Targeting the right keywords and optimizing your position in business categories also improves your local SEO rankings. Working with Optimization Prime, you'll implement a strategy that allows customers to find you first. This reduces the overall cost of marketing in the long run while increasing your revenue.
Local SEO optimization helps A/C repair businesses understand how to get higher rankings in local search results and ensure that your customers find you when they need you.