How Attorneys Can Use Content Marketing for Improved SEO
Content marketing is one of the most effective ways to reach new clients for attorneys and law firms. It provides a means by which to educate clients on issues that are most relevant to their legal needs.
But your content must be optimized in order to work. There are many steps that must be taken to ensure that you provide the right content to the right audience. By having a strategy behind your content, you will increase your visibility, shares, and search engine rankings.
The following shows you how other attorneys are using effective content marketing strategies to grow their practices and provide greater value to their clients.
Developing a Strategy First
A larger audience that engages with and shares your content is the greatest source of new clients. Content marketing lets you to build the trust and authority needed for clients to choose you and your services.
Your content can also represent the individuals in your legal practice and the core principles upon which your services are built. This relationship-building component is the most vital for any business using content marketing.
A Long-term Approach
The goals of a legal practice evolve over time. As a result, so will your content marketing strategy. For attorneys, regulations and legislation can change regularly. Your content gives you an opportunity to keep clients current on important legal issues related to their needs.
Attorneys must therefore have a long-term approach when considering their content strategy. The first step is to consider and evaluate your current strategy. If you have a system of measuring performance already in place, use it to determine what content has been most valuable to your audience.
Your content should also be in line with your business goals. This determines what content you create and distribute in the future.
Finally, determine the ways that you'll distribute and manage your content. Your website is just one small piece of your content distribution. Landing pages, social media, and blogging are also effective ways to reach a greater number of people.
These will also contribute to your rankings in the search engines. By generating more links from related and authoritative sites, your content will develop trustworthiness and value in the eyes of the major search engines.
Putting It Into Practice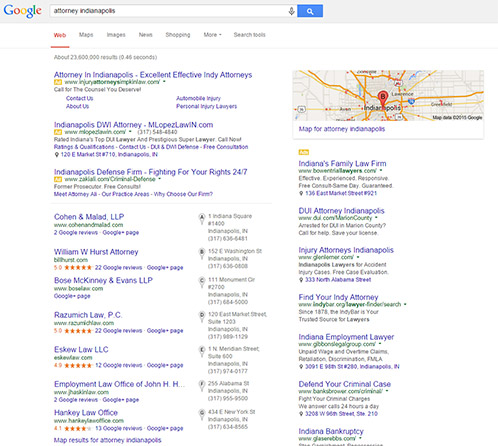 Although attorneys may not consider their practice's overall brand, it's important to begin considering the message that you share with your audience. Establishing the goals for your legal practice helps you tailor a message that will resonate most with your ideal clients. Optimization Prime works to optimize your content so that it ranks for targeted keywords and reaches the audience looking for your services.
Defining your business goals influences the distribution channels you use. Each one contributes to your entire content marketing strategy, so you should consider which channel would provide the greatest return.
SEO professionals at Optimization Prime help your legal practice get a higher return from its content marketing efforts. By developing a strategy that supports your content, you'll provide greater value to your clients and continue to grow your legal practice.