Get More Patients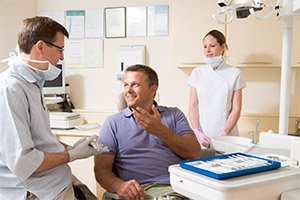 Dental practices have unique needs when it comes to marketing their businesses and generating new patients. Achieving high rankings in a local search and maintaining them in the face of constant search engine updates are just some of the challenges dentists must overcome.
Your potential clients are using the web to find the dental services that they need – search engine optimization (SEO) has become an essential strategy for all dental practices that are hoping to grow.
Challenges Dentists Face in Marketing Online – Dentist SEO
Achieving and maintaining high rankings in the Search Engine Results Pages (SERP) should be considered an ongoing process. Why? Because, 1) Search Engines like Google, Bing, and Yahoo change very frequently (in some cases daily) in order to adjust to adapting technologies and user behavior. Each of the search engines has hundreds of different ranking factors that influence how they will rank your website in their algorithms. Another factor to consider getting higher rankings is, 2) dental practices in your area are also trying to rank higher and get more leads from the web. In many cases, there will be significant competition amongst your peers to win first page results. In most cases, the businesses on top have already hired an online marketing company to help them.
Had a bad experience with another marketing company?  How is Optimization Prime different? We have a greater than 90% client retention rate for a reason.
Although search engines like Google don't tell marketers how to get higher rankings, Optimization Prime has consistently implemented effective ranking strategies that get first page results. But enough about us (FOR NOW), this page is about your practice.
For more information about Optimization Prime please visit our About Us page.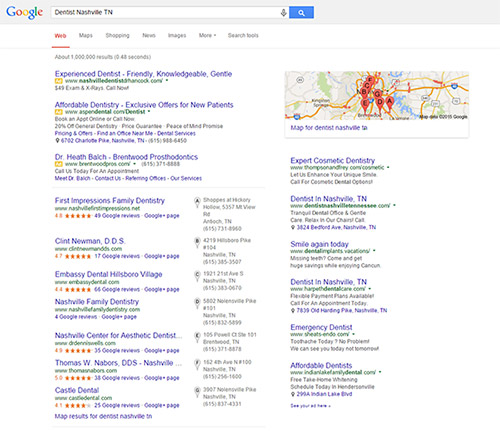 What is your growth strategy and how important is Local SEO for dentist offices?
Are you interested in getting your dental practice ranking at the top of the map in your area or a neighboring city?  Done correctly an SEO strategy will attract new patients while also providing a great opportunity to brand your practice.
Let Us Optimize Your Website
A part of maximizing SEO efforts means making sure that your website is given the green thumb by Google and other search engines.  Here are just a few of the many ranking factors that the biggest players look for: page titles, title tags, Meta descriptions, site structure, integrating Google Tag Manager, etc.
Content and Social Media Marketing
In addition to the more technical aspects of search engine optimization, providing relevant and readable on-page and social media content is important. With over 70% of search volume, Google looks to reward (give search ranking preference) to dental offices that provide the information that answers questions and solves the problem of the person doing the search – your potential patient. A well thought out content and social media marketing strategy will help demonstrate your authority and credibility amongst other local dentists.
FREE Website & SEO Audit – THERE IS NO CATCH (OK, there is maybe a little catch)!
In order to determine where you stand with your search rankings and against your competition, let Optimization Prime perform a FREE Website and SEO Audit. The only small favor we ask (the catch as it were) is if you decide to take action towards fixing the issues we find on your website OR if you decide to get higher search rankings and more leads, to please give Optimization Prime a chance to earn your business.
There are two important factors we think you should know about Optimization Prime, 1) we have a greater than 90% client retention rate, and 2) many of our best clients have usually hired and fired several other SEO companies before hiring us.
Our Mission Statement
At Optimization Prime, our mission is to help businesses and their owners by optimizing and increasing online traffic while improving their brand awareness.
OUR WHY
We approach our work for clients with their growth in mind. Everything we do, we do to help our clients win the competition for online traffic, leads, conversions, and consistent growth.  The work we do for clients is an investment towards their future.
OUR HOW
We compare the results we get for our clients to results that our competitors are getting for their clients. We improve our strategies when needed in order to win for our clients.  The way we win the online game is by implementing tested and proven strategies while analyzing and adjusting from our results.  We always have and always will follow Google Webmaster Guidelines. We never use tactics for short-term gains that may have negative long-term implications.
Our core values are anchored by our thirst for knowledge, focus on education, and our emphasis on continuous improvement.  We read and absorb relevant industry-specific information and we analyze our results against others in our industry. We use this knowledge base as a compass to guide our strategies and campaigns.
Only when our clients win do we win.
OUR WHAT
We deliver winning, creative online marketing strategies and solutions for local businesses and business owners. We have a greater than 90% client retention rate because we are honest, hard working, and very good at what we do.
Don't forget to take advantage of the FREE Website Audit! Fill out the form on the right side of this page.